At least a fifth of the world's largest public companies have committed to net zero targets, and for many the focus extends beyond their own emissions.
Large organizations are in a prime position to innovate, fund and install the technology the world needs to reach its net-zero emissions goals.
Different companies play different roles, but they all agree that now is the moment to harness this energy and act.
All over the world, in big cities and small villages, both in advanced economies and in developing countries, commitment to sustainability and climate protection is increasingly integrated into daily life.
The challenges posed by climate change are daunting and the urgency to act has never been greater. The world unites to face the existential challenge – an encouraging sign of shared goals and common destiny.
The private sector is taking the lead on sustainability

It is important that we are also in a transformative moment when solving the challenges. As the world prioritizes global action, companies are poised to take the lead in delivering solutions for decades to come.
Transition to the global age of sustainability action

As the world transitions into a global era of sustainability action, the who, what, how and when Successfully solving the world's most pressing challenges are also in flux, with business increasingly acting as a unifying theme.
WHO: As companies increasingly lead—particularly through technology and innovation—they don't do so in a vacuum.
One of the defining characteristics of corporate social responsibility is real-time stakeholder engagement. This means that employees, investors, customers, communities and non-governmental organizations have an opportunity to influence corporate actions.
And the magnitude of that influence is unprecedented and growing. We are in a time when a single shareholder letter, customer email, or phone call with stakeholders can inform broader considerations in the company's decision-making process.
The role of government is also changing. For the past few decades, governments have directed environmental action through command and control systems and other regulatory and policy systems. Today, government decision-making is struggling to keep pace with other interest groups that are asserting their influence within months and weeks.
But in this transformative era, government has an important, albeit evolving, role to play. Governments are increasingly partnering with companies to support innovation and breakthrough technologies and to share the investments, risks and results.
And governments can be a force multiplier for success by creating healthy policy frameworks for technology deployment through tax programs, infrastructure initiatives, and streamlining of permits.
What: There are numerous global sustainability challenges, including climate change, a just energy transition, environmental protection, healthcare, poverty, human rights, gender and racial equality, and others.
But there is one central theme that runs through all of them: justice. Put simply, justice is the unifying goal of the global sustainability era.
Ultimately, sustainability is about giving everyone the opportunity to live a prosperous life. Perhaps this is best represented by the 17 United Nations Sustainable Development Goalsthat companies are increasingly turning to when expressing their own sustainability priorities.
Here the global reach of multinational companies is uniquely positioned to pursue the goal of justice and a just and prosperous life for all people, in line with the SDGs. This will be seen in full at this year's annual meeting of the World Economic Forum, COP27 in Egypt in November and COP28 in the UAE in 2023.
While these are, by their very nature, broader events, the theme of equity will be at the forefront – to ensure that while companies contribute technology and innovation to decarbonising industrial sectors, they are also working to improve the quality of life for all equally, ensuring that the benefits of these technology have a wide reach.
As: Regardless of the type of business, the company's overarching contribution to combating climate change and sustainability lies in its ability to innovate and deliver the technological improvements the world needs.
Different companies will have different roles to play, including in innovation, finance and investment, operations, and supply chain and logistics. But technology is where companies will lead the change for decades to come.
There are two simultaneous goals here: providing today's best technology to advance, and innovating the next step of change needed to reach net zero and other sustainability goals.
For this reason, companies like GE are simultaneously investing in breakthrough technologies and working with the above stakeholders to fund, deploy, install and operate such technologies at scale over time.
Our research centers are virtual time machines that show the evolution of future technologies that the world will need to thrive in the decades to come.
When: For many stakeholders, timing is perhaps the most important issue for global sustainability. More corporate responsibility and certainty about the When is one of the defining differences in this transformative era of corporate governance.
Businesses are increasingly making commitments about their own impacts – on climate change, environmental performance and other environmental, social and governance metrics.
This type of forward-looking forecast is unprecedented. While the future is quite uncertain, setting ambitions and communicating transparently about progress and challenges is a crucial new tool to look ahead and not just manage the present and past.
In terms of timing, when it comes to climate and energy transition, much of the world is focused on making significant progress by 2030 with today's technology, while using this decade to chart a path towards net-zero goals with breakthrough technologies to be developed by 2050.
Global measures for sustainability will continue to evolve

But even that is a gross generalization. We see short-, medium- and long-term goals for companies and sectors, as well as frequent updates and revisions as technology and other circumstances evolve.
We will have both successes and setbacks, and that's fine as long as we maintain transparency. This can allow stakeholders to pinpoint what is working and identify where additional attention might be warranted.
The clean energy transition is key to combating climate change, but over the past five years the energy transition has stalled.
Energy use and production contribute to two-thirds of global emissions, and 81% of the global energy system is still based on fossil fuels, the same percentage as 30 years ago. Also, the improvement in the world economy's energy intensity (the amount of energy used per unit of economic activity) is slowing. In 2018, energy intensity improved by 1.2%, the slowest rate since 2010.
Effective policy action, private sector action and public-private collaboration are required to create a more inclusive, sustainable, affordable and secure global energy system.
Benchmarking advances are essential to a successful transition. The World Economic Forum's Energy Transition Index, which ranks 115 economies on how well they balance energy security and access with environmental sustainability and affordability, shows that the biggest challenge to the energy transition is the unwillingness of the world's largest emitters, including the US and China, is , India and Russia. The top 10 countries in terms of preparedness account for just 2.6% of global annual emissions.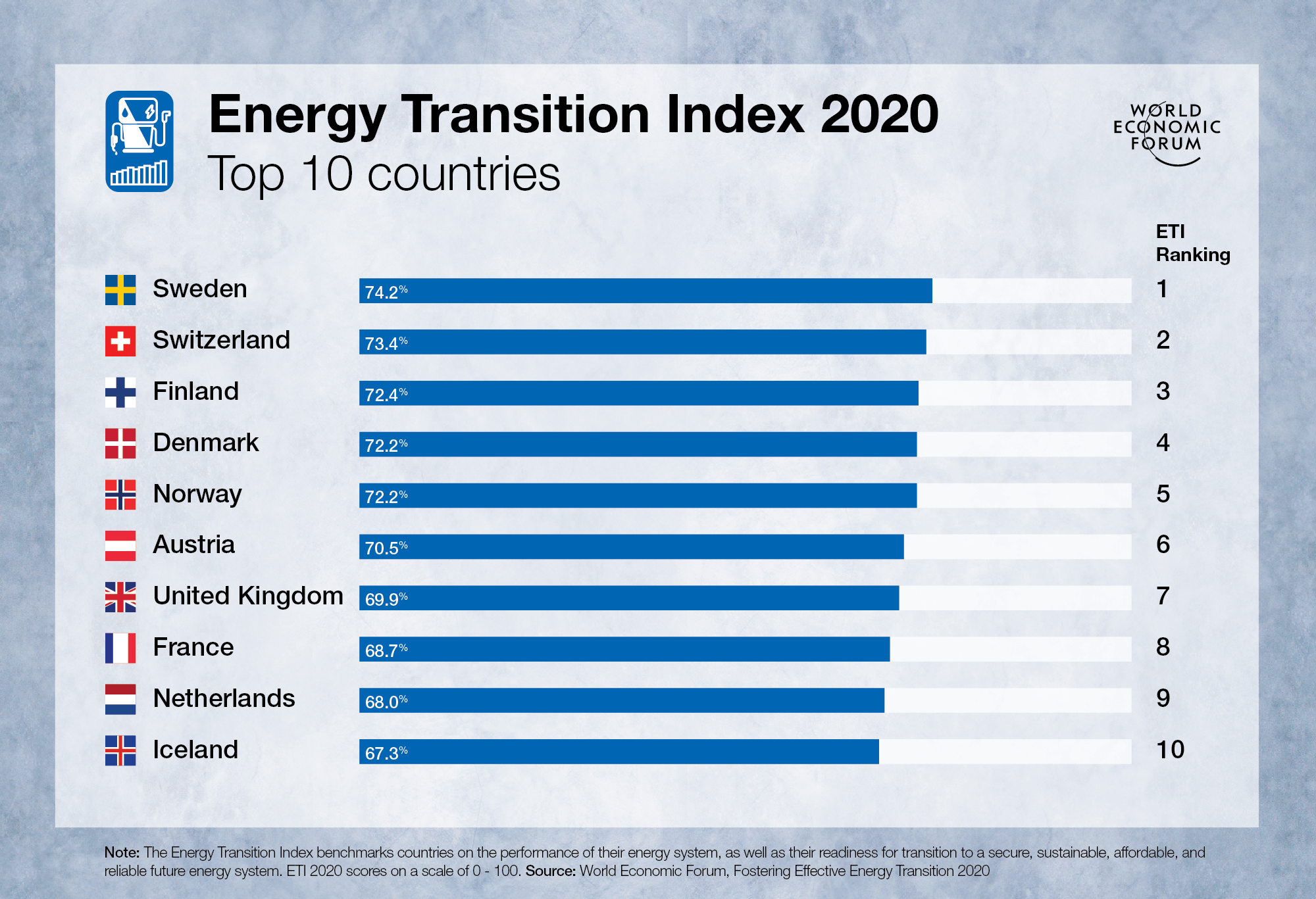 To future-proof the global energy system, the Forum's Shaping the Future of Energy and Materials platform works on initiatives such as Systemic Efficiency, Innovation and Clean Energy and the Global Battery Alliance to encourage and enable innovative energy investments, technologies and solutions .
Additionally, the Mission Possible Platform (MPP) is working to bring together public and private partners to power the industrial transition and put heavy industry and the mobility sector on the path to net-zero emissions. MPP is an initiative of the World Economic Forum and the Energy Transitions Commission.
Is your organization interested in working with the World Economic Forum? Learn more here.
We're proud to build on our legacy of innovative technologies the world needs to improve the quality of life for people everywhere and solve three of the world's most pressing sustainability challenges:
(2) A future of flight that connects people in more sustainable ways.
(3) Making precision healthcare more accessible to the underserved half of the world's population.
We value the opportunity to work with our stakeholders to achieve this shared success on these important goals.